JYJ-120C 7-4/0 AWG cable lug crimping tools
1. Crimping tool for non-insulated connectors
2. Hexagon crimping
3. Dies could be OEM as needed
4. Revolving dies
5. Dies are made of SCM-40
6. Designed with accurate hole diameter and reliable terminations
7. No dies for replace, simply rotata die to required crimp size
8. Product supplied with inner box
Product Details
Crimping 10~120 mm2 / 7-4/0 AWG Non-insulated connector
Model:JYJ-120C
Crimping material:Non-insulated connector
Crimping Range: 10~120 mm2
10mm2 : 7AWG, 16mm2 : 5AWG , 25mm2 : 3AWG, 35mm2 : 2AWG
50mm2 : 1/0AWG, 70mm2 : 2/0AWG , 95mm2 : 3/0AWG, 120mm2 : 4/0AWG
Size: 620*130*45 mm
Weight:4kg
Operation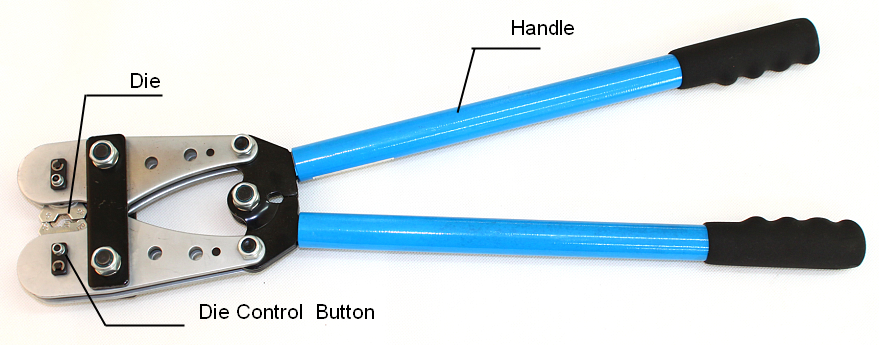 1. Remove the cable insulation according to the instructions supplied with each lug or splice. Do not cut or nick the individual strands.
2. Open the tool to its widest point and press the die control button.
3. Select the proper die setting by rotating the die, matching the cable size and color coded connector with thesize on the die. Release the buttontoreturn to its original position. Repeat this process for the opposite die. Both dies should match.
4. Insertthe appropriate connector with cable between the die set and crimp. Open the tool and take out the component.
Cautionance
1. Do not extend handles.
2. Do not use this tool beyond its crimping capacity (7-4/0 AWG).
3. Use a light application of anti-rust oil or grease to coat the surface of the blade edges while crimper is not in use.
Maintenance
1. Do not drop or use the crimper to strike objects.
2. Do not store crimper in a wet or damp location.
3. Do not store or usein or near any sulfuric acid or corrosio gas
4. Check the screws of the cover plate to ensure thatnone are loose.
Inquiry Now
Can't find the specific information you're looking for? Have a question ? Contact Us